Welcome to Class 1!
In Class 1 we currently have EYFS children (pre-school and reception). Miss Hoffman is our teacher and Mrs Flusk (Mon/Weds/Fri) Mrs Jones (Tues/Thurs) and Miss Salter (Mon/Weds/Fri) are our teaching partners.
We work really hard on beginning a great start to our school life with lots of finding out, exploring and having fun. We love to create our own learning following our interests but also have lots of fun learning new things from the adults in our class. For more information please see our EYFS Policy.
This half term we are reading...
Play
Much of our curriculum in Class 1 is focussed on play. We believe that play is fundamental to young children and this forms the basis of our curriculum.
We have carefully picked toys and resources in our classroom that cover all the Early Years Foundation Stage areas of learning. The adults in the classroom support the children with their play to help the children to explore, investigate and collaborate with engagement and purpose.
Our curriculum is based around high quality texts that are picked around the children's interests. This then help us form our theme. We usually have an overarching theme and then pick areas of interest around that theme. For example, our overarching theme may be animals and then we would choose bears and bugs within this.
The children have access to many toys and resources all the time (continuous provision) and we also create extra activities on top of this for the children to explore in their play. We also spend a lot of time thinking about the Characteristics of Effective Learning and how we can use these approaches in our learning.
We feel the poem below encompasses the importance of playing.
The children complete a phonics session every day of the week including pre-school.
We use Little Wandle Revised for Letters and Sounds as our Phonics for Reception. Please see our Reading at RPA for more information.
It is really important that we pronounce our phonics sounds in the correct way. Here is a video from Little Wandle on how to practice our sounds.
https://www.littlewandlelettersandsounds.org.uk/resources/for-parents/
We also have to learn some words that are very tricky and cannot be sounded out. These words have to be learnt by sight.
Click here for phase 2 tricky words
Click here for phase 3 tricky words
Click here for phase 4 tricky words
Here are some helpful websites for supporting your child with phonics:
Phonics Games:
https://www.phonicsplay.co.uk/
https://www.bbc.co.uk/cbeebies/shows/alphablocks
https://www.phonicsbloom.com/uk/game/match-cards?phase=2
Information
https://www.littlewandlelettersandsounds.org.uk/resources/for-parents/
https://home.oxfordowl.co.uk/reading/learn-to-read-phonics/
https://www.bbc.co.uk/cbeebies/grownups/the-alphablocks-guide-to-phonics
In English we use the books that link to our book based curriculum,
We explore the stories in an exciting and thorough way. We write for many different purposes.
We use different lenses from 'The Write Stuff' to explore books too.
Here are our reading and writing rainbow of lenses.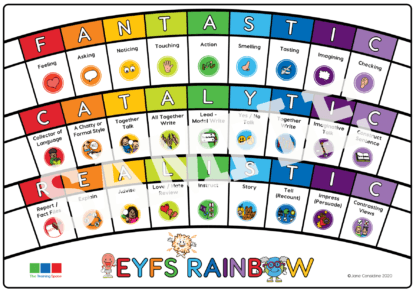 The children in Reception we use the 'Firm Foundations' Numicon Framework, White Rose Maths and the NCETM Mastering Number Programme.
We use Numicon lots in our maths sessions. The aim of Numicon is to make numbers real for children.
Children can touch and see the Numicon shapes to support them to be able to see a connection between numbers.
The holes in the Numicon shapes represent the numbers 1 to 10. When they are arranged in order children can easily see connections between the numbers, such as 'one more' or 'one less'.

This leads to children being able to see more complex mathematical ideas, like how two fours make eight, three twos make six, and so on. This lays the foundation for their understanding of number all the way through school.
White Rose maths has been influenced, inspired and formed by the work of leading maths researchers and teachers across the world! White Rose has been developed to support children to have a deep understanding, confidence and competence in maths in order for the children to create strong and secure understanding. We do lots of 'digging deeper' in class 1 to make sure that we really understand our maths.